Products - Capacitive Touch Panels
A capacitive type touch screen is coated with indium tin oxide (ITO) and an electrical current is continuously conducted across the screen. When a finger touches the screen, it draws a minute amount of capacitance to the point touched, and then the X-Y coordinates are calculated by the controller and transmitted to the operating system to locate the position of the finger. Projective type capacitive touch panels offer fast and sensitive touch response with excellent multi-touch navigation performance.

Young Fast's advanced capacitive products are designed for optimized optics, durability, low power, easy integration, and an attractive user interface to meet the rigorous needs of consumer electronics. By collaborating with renowned IC vendors to develop high-speed and sensitive controllers, Young Fast has successfully minimized the impact of noise interference and has enhanced optical transparency.  Young Fast offers a wide array of capacitive TPS solutions, from the high-end all glass to the low cost film/glass and thin film/film/film.


The following diagram shows the structure of the Capacitive TPS solution.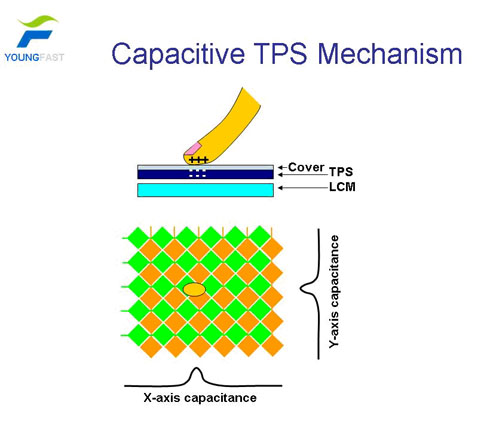 | | |
| --- | --- |
| Item | Specification |
| Size | 2.8" |
| Aspect Ratio | 3:4 |
| Structure | ITO Film / ITO Glass |
| IC Controller | MA81542A QFN32 (5mm x 5mm x 0.75mm) |
| I/O Number | 6 x 6 |
| Support Resolution | 11 x 11 |
| Interface | slave SPI / slave I2C (pin selection) |
| Input Method | Finger |
| ITO Glass | T=0.7mm , 300Ω/□ ±100 Ω |
| ITO Film | T=0.188mm , 300Ω/□ ±100 Ω Clear Type |
| High Operating Temperature Range | 50℃,80%RH (except for dew gathering or congealing) |
| Low Operating Temperature Range | -10℃(except for dew gathering or congealing) |
| High Storage Temperature Range | 60℃,90%RH (except for dew gathering or congealing) |
| Low Storage Temperature Range | -30℃ (except for dew gathering or congealing) |
| Surface Hardness | 3H- pressure 500gf , 45deg. |
| Light Transparency | 82%min. |
| Flexible Pattern Heat Seal Peeling Strength | 200gf/cm ( peeling upward by 90 deg.) |
| Package Drop | No damage to the product.(1corner edge, 3 ridges, 6 surfaces, drop from 100 cm height) |
Enhanced durability, sensitivity and transmissivity

Able to detect position of soft and gentle touches

Dust, dirt, and water-resistant

Support for multi-touch functions

Suitable for high-end cellular phones, smart phones, mobile appliances, digital cameras, car navigation systems, and other consumer electronic devices