About Us - Company Profile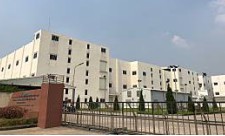 Young Fast Optoelectronics Co., Ltd.

Founded in 2000, Young Fast Optoelectronics Co., Ltd. is one of the leading manufacturers of small to medium-sized touch panel sensor (TPS) products ranging from 1.2 to 12 inches.




Young Fast at a Glance:
–    Founded:  2000

–    Headquarters: Taoyuan, Taiwan
–    Production Facilities: Kuanyin factory in Taiwan, and a factory in Vietnam

–    Employees : 130 (Taiwan), 500 (Vietnam)
Corporate Philosophy
Young Fast believes in taking risks and facing challenges head on, striving to become a world-class technology innovator and solutions provider.  Young Fast firmly adheres to an "employees first" corporate culture and stresses the importance of teamwork.  By treating employees as the most valuable assets of the company, Young Fast attracts and retains the top talent in the industry. It is because of these strong employees that Young Fast has continued to increase revenue, profits, and growth.


Company History

When Young Fast had just been established in 2000, all the touch screen manufacturers focused on large-sized display applications, ignoring the development potential of small to medium-sized touch screens. Seeing opportunity in this market, Young Fast was the first to devote its resources and efforts on the research, mass production, and marketing of this immerging technology. As a result, Young Fast has become one of the dominating technology leaders in this market within just eight years.

In 2003, the demand from PDA users in China for convenient handwriting input applications became very high. Young Fast was among the first to introduce medium-sized touch screens to the world's largest mobile device market and immediately gained extensive attention and recognition.  This led to an increase in high volume shipments and propelled revenues to new levels.

With the recent surging demand for sophisticated smart phones, Young Fast outpaced the competitors by introducing cutting-edge resistive lens touch panel sensors that feature a flat-surface, mirror-like, and high-resolution display with clear and crisp images.  The development of advanced capacitive touch panels reaffirms Young Fast's outstanding engineering competence and further extend our global reaches to numerous brand name customers in different vertical markets, including mobile phones, consumer electronics, GPS devices, PDAs, and more.